Let's Talk About the Facts! (Dental Myths Debunked)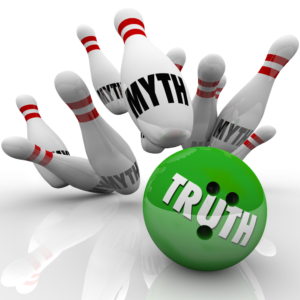 There are many myths about the dentist office that just aren't true. To reassure you that the dentist is no place to fear, we're going to debunk some common dental questions and myths about dentistry in general as well as or office specifically.
Common Dental Myths and Questions Debunked and Answered
Myth #1 My teeth don't hurt or look bad, therefore I don't need to go to the dentist.
Reality: Patients can have advanced gum disease or tooth decay without noticing any negative symptoms. Similarly, patients can have the beginning stages of oral cancer and not notice anything unusual.
Myth #2 I don't need to take care of my baby's teeth because they will fall out anyways.
Reality: A baby's teeth can easily get cavities as soon as they come in. Cavities in the baby teeth may not seem like a big deal, but the plaque and decay can infect the adult, permanent teeth growing underneath.
Myth #3 All dental procedures should be avoided during pregnancy.
Dental procedures have advanced and become a lot safer. While it is still a good idea to be cautious with x-rays and surgery, other dental procedures are safe and should not be avoided.
Myth #4 I practice good dental hygiene so I don't need to go to the dentist for a cleaning.
Reality: While proper personal dental hygiene is important for healthy teeth and gums, complete, adequate dental care also includes regular professional dental cleanings and examinations. A cleaning at a dentist office is more thorough and a trained dentist will examine your teeth, often identifying and catching dental issues that you may not have noticed.
Myth #5 Sedation is only for surgery and extensive dental procedures.
Reality: The use of sedation in dentistry has grown significantly. There are many levels and types of sedation available. Many dental patients who have moderate to severe fear of the dentist have benefited from being mildly sedated during their dental procedure. Our dental office, for example has certified sedation dentists who can administer laughing gas and other forms of mild sedation to patients with dental anxiety.
Myth #6 I don't have dental insurance, so I can't afford any dental work.
Reality: We treat patients with and without dental insurance. For patients without dental insurance we offer alternative payment options that are affordable and fit your budget and situation. For more information about the insurance we accept as well as our financing options, give us a call.
Myth #7 I need to take my child to a different dentist than where I get my dental work done.
Reality: It is highly recommended to take children, especially young children to a pediatric dentist, not a general dentist. Pediatric dentists have experience and special knowledge working specifically with children and usually their offices are bright, fun and kid-friendly. Family dentists are places that treat both adults and children. There are pediatric dentists on staff and the office is kid-friendly. There are also dentists who work specifically with adults.
At Family Dental Health, we offer services that treat dental issues of the entire family, saving our patients valuable time. The dental office is no place to avoid or fear. Regular teeth cleanings and examinations are an important aspect in proper, adequate dental hygiene that is necessary to maintain the health of your teeth and gums.
As your professional dental practice in Idaho Falls, we answer hundreds of dental questions every day! If you have any questions or are overdue for a dental appointment, contact us today.