Reasons You Might Need to Go to the Dentist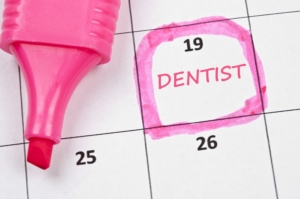 While it may be hard to believe, going to the dentist is not everyone's favorite activity. As an Idaho Falls dentist, we never want our patients to avoid coming in to our office. We strongly encourage our patients to do their recommended cleanings every six months. These are very important visits that do more than check for cavities.
Our staff will scrape the plaque and tartar off your teeth, which contributes to future cavities, gum disease, and infection. These are not the only times you should come into the office though. There are two other great reasons to make an appointment with our office; for cosmetic fixes and emergency situations.
Cosmetic
Cosmetic dentistry focuses on making teeth look great for any reason. Our patients looking for a better smile usually have one of two reasons; they either had damage done to their teeth, or they are just unhappy with their smile.
For fixing damage to teeth, the background to the issue is an accident or bad habit. During an accident, chipped teeth or knocking a tooth out entirely is often an outcome we can fix.
No one should walk around with a broken smile and we are always happy to help get it back to normal. Bad habits that contribute to damaged teeth are smoking, drinking, and grinding teeth. This is more than just discolored teeth for many patients; it's restoring teeth to regular function and appearance.
The second type of cosmetic dentistry we do is doing a smile makeover. Sometimes there is nothing overly terrible about your smile, but you want to feel more confident or have a more beautiful grin. We love discussing all the options to change a smile, including:
Whitening
Crowns
Implants
Veneers
With all the tools we have available, there is no need to live with a smile you don't love. Even a little work can go a long way in making you feel confident, happy, and beautiful.
Dental Emergencies
Aside from teeth getting damaged in an accident, there are many other emergency situations that happen with our teeth. Some of the problems you may experience are:
Lost fillings or crowns
Toothaches that just won't go away
Abnormal growths in the mouth
TMJ Pain
Dental Abscesses
If you ever experience any of the problems listed or anything that is worrying you, we can get you in the same day. Even if we can't completely fix the problem in one appointment, we can help stop the pain as fast as possible. No one likes having mouth pain, especially when it makes eating, drinking, or sleeping difficult.
If you are ever unhappy with your teeth for any reason, we want you to come into the office. We will gladly do a check-up to make sure things are looking okay and functioning properly. So whether you are looking to relieve pain or just like what you see in the mirror more, we would love to have you come in rather than waiting for your next cleaning appointment.