How to Help Alleviate Your Child's Fear of the Dentist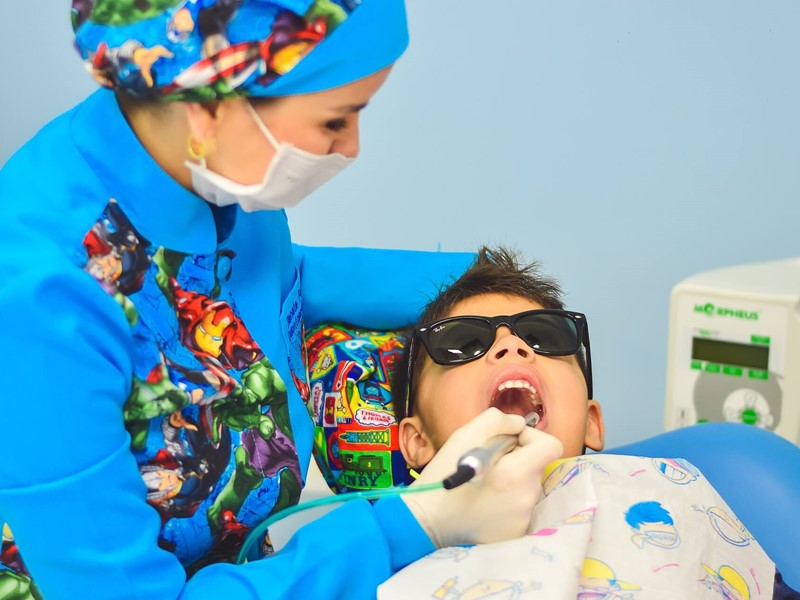 Every child has their fears. But, for children, going to the dentist can be nerve-wracking. Whether it's the masks and invasive dental equipment, being touched by strangers, or just not liking going to the dentist… a child can feel fearful of the unknown when it comes to a sensitive dental appointment.
As their parent or guardian, it's your job to help them feel more comfortable. What they fear is the unknown and you can help ease that fear by giving them an idea of what to expect and why they shouldn't be scared. There are several ways you can do this.
Find a Comfortable Dentist
A primary factor in making sure your child is comfortable with the dentist is finding a good clinic with employees who can put your child at ease.
Make sure your child and dentist have a good relationship and that your child can relax in their care. Even if the dentist is well-meaning, perhaps your child isn't comfortable for any number of reasons. If this is the case, listen to your child and consider their feelings.
Try to find a capable dentist who can help their pediatric patient feel at ease with them. Explore your options for pediatric dentists and which ones your child enjoys doing their routine checkups and care.
Teach Them Early
You can help your child become comfortable with the dentist if you start taking them early in their life. Your child's baby teeth can last many years during their childhood. So teach your kid how they can develop good oral habits.
Also, children have an easier time adapting to different (or perhaps uncomfortable) situations when exposed to them early on in their life. Even as a toddler, they can learn to adapt when exposed to many scenarios. Think of how you can allow your child to get used to seeing the dentist and make the experience an optimistic one.
By introducing them to dental routines, dental procedures will be normal. As a parent, arrive early at the dentist's office to learn how to brush your child's teeth.
Make the Visit a Fun Learning Experience
A critical part of helping your child become more comfortable with seeing the dentist is developing the natural idea that it'll be a fun and educational experience.
Can you make "dentist" a game so it becomes something they're familiar with? And teach them proper dental care and how to avoid cavities. This will help make seeing the dentist easier.
Don't wait for your child to complain about a toothache to see the dentist. Pediatric dentists will do whatever is best to make sure a child patient feels comfortable and at ease in their care. Why not ask your dentist if you and your child can take a tour around the office to get them used to the environment and ask about the tools.
Do your part as a parent to help your kid feel relaxed, even excited about going to the dentist by making it a positive experience. As you wait, talk to your child and let them know that the dentists are there to make their teeth better, and talk through how they do that. Take this chance to tell them fun and interesting facts about dental care and how the dentist's tools clean their teeth.
Teach the Importance of Healthy Teeth
Many adults remember their parents teaching the importance of being healthy. Many of these learned routine healthy habits stayed with them into their adult years. You can do this for your child for positive oral hygiene!
Teach your child in a positive manner why brushing and flossing their teeth twice a day is a wise choice. Tell them what happens when they don't take care of their teeth, but don't scare them. Don't tell them how failing to brush will "make their teeth fall out," but instead say something like "brushing your teeth will help you be healthy and make your teeth feel better."
Help your kid with their oral hygiene habits and health care, and do it alongside them. Teach your children to brush and floss every day so they can keep their mouths healthy and clean. Without proper oral care, serious infections can develop like gum disease or gingivitis.
Let your kids know that healthy teeth will prevent diseases and help prevent them from getting sick. Always put strong and healthy emphasis that brushing and flossing will let them have strong teeth.
Always Offer Positive Reinforcement
Keep a calm and positive attitude. Keep the atmosphere upbeat, making a lighthearted joke to ease any tension. Praise their calm attitude and encourage calmness and levity.
Don't talk about the dentist negatively; such as mentioning needles and pain. Of course, don't lie to your kids. But try to make the experience as positive as possible; mention the needle being brief and taking away pain to make them feel better as the dentist takes care of their teeth.
You can help them feel relaxed by bringing along a comfort item. Take their favorite toy or bring a tablet with games to keep them distracted.
Nurture a positive bond between your child and pediatric dentist so that future visits will be normal and not something they come to fear.
Take Care of Your Kid's Teeth Right
When it comes to taking care of your child's oral health, you must learn to do it right! You should know a few of your best resources to ensure the best pediatric dental care you can provide your child. Once you know the best options available, you can start with your child's best dental treatment.
Teach your child to know that going to the dentist isn't something to fear. Find a dentist who connects with your child and, as a parent, do your part to reinforce positivity when it comes to oral hygiene. Teach your child the importance of taking care of their teeth and always properly praise them.